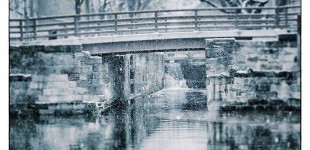 The C&O Canal at 30th Street. The Canal was a project dreamed up by George Washington and he saw it as the Nation's Gateway to the West. It stretches up to Cumberland, Maryland and I have done the trip by bicycle (The Washington Post) and by car (National Geographic Traveler). Ironically, by time the Canal was finished, the majority of the cargo carried was coal for the train which ran parallel to it and eventually put it out of business.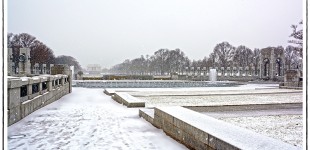 This is the first time I have been able to get down to the Memorial to catch the flakes falling and the fountains running at the same time. One of these days, the "Wall of Stars " will be completed and the lights on. We're making progress. It was an exceptionally quiet time and there were only a few people at the Memorial all taking pictures and all very cleverly staying out of each's others pictures. Quite a nice experience.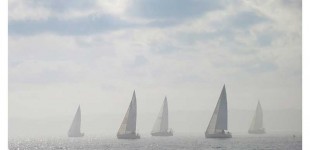 It's nearing the end of the boating season (at least for us!). We started the day off with rain and decided to simply stop by the Marina for lunch and take a stroll but all of sudden, serendipity. The weather went from fog, to crystal clear and back to cloudy in three blissful hours of sailing with a steady ten to fifteen knot wind.